News Releases
Establishment of Hong Kong REITS Association Aims to Boost Prosperity of H-REIT Market
The inauguration ceremony of Hong Kong REITS Association Limited (HKREITA, or the Association) was held today (Thursday) at JW Marriott Hotel Hong Kong, with The Honourable Chan Mo-po, Financial Secretary of the Hong Kong SAR Government as the officiating guest. The Honourable Christopher Hui Ching-yu, Secretary for Financial Services and the Treasury, and Lui Tim-leung, the Chairman of the Securities and Futures Commission also graced the ceremony with their presence.
HKREITA aims to gather forces of the local REIT market and propel the Hong Kong REIT industry to greater prominence in the global capital market. The Hon Paul Chan Mo-po, Financial Secretary of the HKSAR Government said in his remarks that Hong Kong is one of the world's leading fund-raising centres and an important market for REITS in Asia Pacific Region, with the total market value of REITs listed in Hong Kong amounted to approximately $210 billion at the end of July this year, representing more than fivefold increase as compared to 2005 when the REIT regime was first introduced to Hong Kong. He hoped that members of the association will make good use of the platform to further promote Hong Kong REIT market and the city's asset and wealth management industry, and ultimately contribute to the vigorous development of Hong Kong society.
Three Honorary Founding Presidents of the Association, George Hongchoy, Executive Director and CEO of Link REIT, Lin Deliang, Chairman, Executive Director and CEO of Yuexiu REIT and Hubert Chak, Executive Director and CEO of SF REIT, officiated at the inauguration ceremony, with the presence of a number of representatives from the REITs industry, regulators and political and business leaders and luminaries, including Permanent Secretary for Financial Services and the Treasury (Financial Services) Salina Yan Mei-mei, and Under Secretary Joseph Chan Ho-lim, the Securities and Futures Commission Deputy CEO Julia Leung Fung-yee, and Executive Director (Investment Products) Christina Choi Fung-yee, Financial Services Development Council Executive Director Dr Au King-lun, China Merchants Land Asset Management Company Limited CEO Guo Jin, Henderson Sunlight Asset Management Limited CEO Keith Wu Shiu-kee, Eagle Asset Management (CP) Limited CEO Christina Hau Shun, and Spring Asset Management Limited CEO Kevin Leung Kwok-hoe.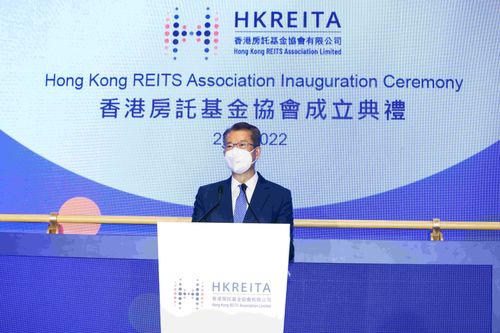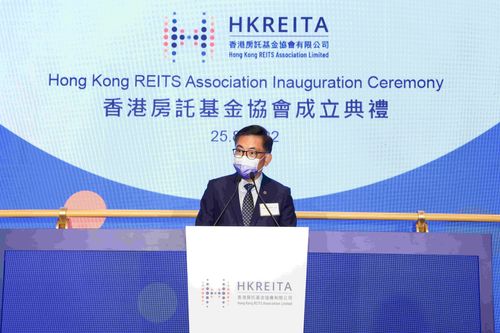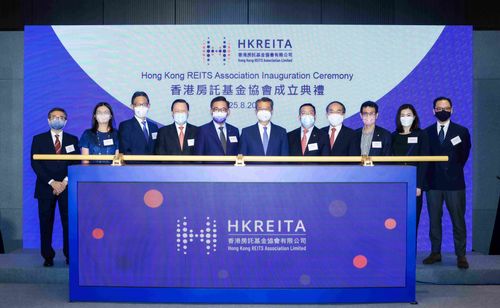 High resolution pictures can be downloaded here.
– End –
About Hong Kong REITS Association (HKREITA)
HKREITA is a collaborative platform of the city's real estate investment trusts (REITs) sector. The association brings together REIT managers, industry practitioners and professionals working in the REIT sector who share the association's vision to jointly promote the overall development of the REIT market in Hong Kong. HKREITA seeks to pool ideas and to serve as the representative voice of the REIT sector in Hong Kong, and works closely with policymakers and other stakeholders to boost Hong Kong's position in the global REIT market.
For details, please visit hkreita.com
Back